Thursday, 15 January 2015

Berry Hill apartment deal second-biggest on record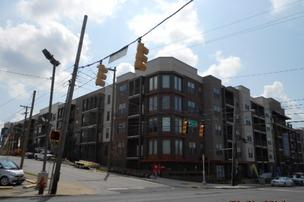 Adam Sichko, Senior Reporter- Nashville Business Journal
New York buyers paid $61.2 million for the 23Hundred at Berry Hill apartment complex in Nashville, according to a deed filed Jan. 14.
That averages to $230,075 per apartment. By that measure, that's the second-largest price paid for Nashville apartments, behind only the Elliston 23 complex in Midtown ($287,000 per apartment, or $95.1 million total).
Sentinel Real Estate Corp. is the new owner of the 23Hundred complex, located at 2300 Franklin Pike in the fast-changing Melrose area, near 12South.
The complex, with 266 apartments, opened about one year ago. It's fully leased. It was a joint venture by Stonehenge Real Estate Group, run by local developer Todd Jackovich, and Bluerock Real Estate, whose corporate offices are in Manhattan.
The sale of 23Hundred at Berry Hill means that investors are picking up right where they left off. Last year, investors paid a record $1.28 billion for apartment and condo buildings in the region - a 70 percent jump from 2013.
Vince Lefler, with the firm Jones Lang LaSalle, brokered the sale of 23Hundred to Sentinel.
"The critical element is this: It's not on West End. It's not in the Gulch. It's in an area that has incredible demographics, but that also is an emerging area," Lefler told me. "It shows the focus on Nashville is more pervasive than just those few areas."

Posted on 01/15/2015 8:42 AM by Tiffany Olson
Comments
No comments yet.